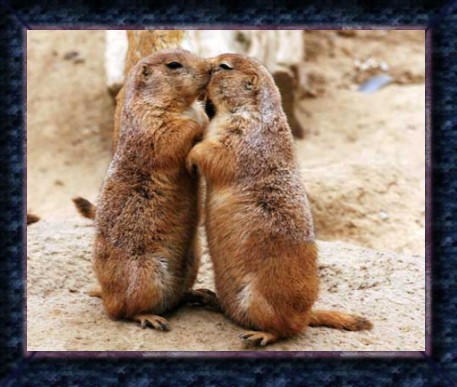 Kissing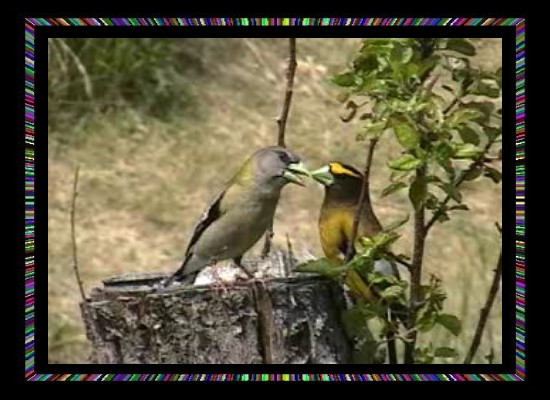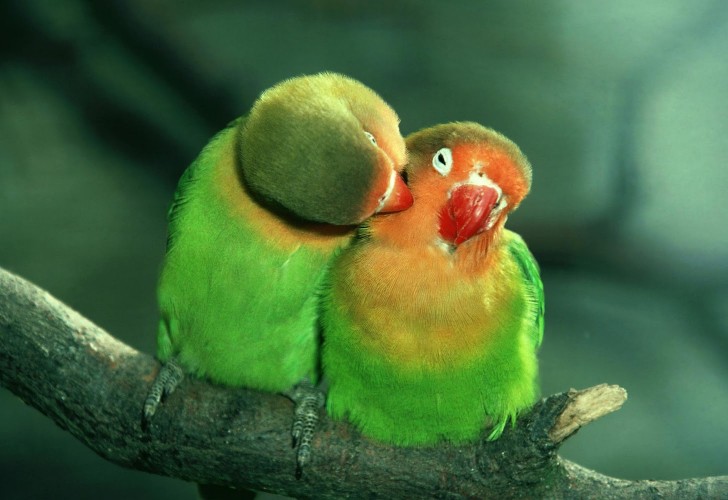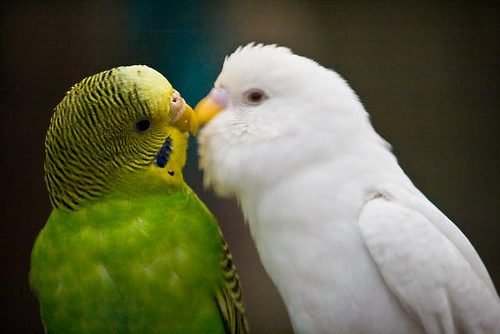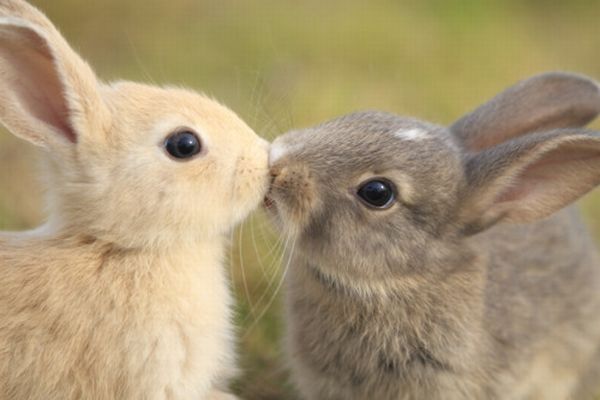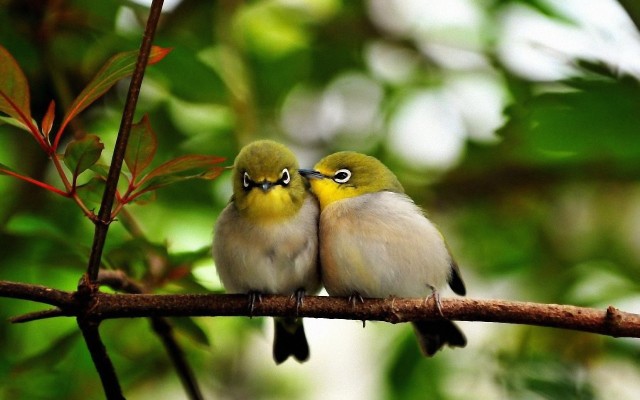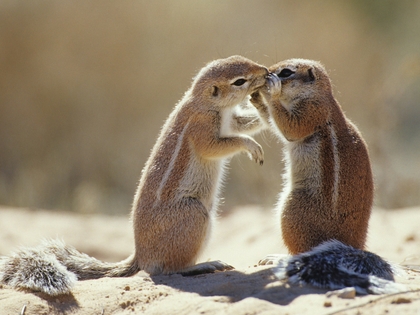 Kiss
"The sleeping disciples had been suddenly awakened by the light surrounding the Saviour. They saw the angel bending over their prostrate Master. They saw him lift the Saviour's head upon his bosom, and point toward heaven. They heard his voice, like sweetest music, speaking words of comfort and hope. The disciples recalled the scene upon the mount of transfiguration. They remembered the glory that in the temple had encircled Jesus, and the voice of God that spoke from the cloud. Now that same glory was again revealed, and they had no further fear for their Master. He was under the care of God; a mighty angel had been sent to protect Him. Again the disciples in their weariness yield to the strange stupor that overpowers them. Again Jesus finds them sleeping.
Looking sorrowfully upon them He says, "Sleep on now, and take your rest: behold, the hour is at hand, and the Son of man is betrayed into the hands of sinners."
Even as He spoke these words, He heard the footsteps of the mob in search of Him, and said, "Rise, let us be going: behold, he is at hand that doth betray Me."
No traces of His recent agony were visible as Jesus stepped forth to meet His betrayer. Standing in advance of His disciples He said, "Whom seek ye?" They answered, "Jesus of Nazareth." Jesus replied, "I am He." As these words were spoken, the angel who had lately ministered to Jesus moved between Him and the mob. A divine light illuminated the Saviour's face, and a dovelike form overshadowed Him. In the presence of this divine glory, the murderous throng could not stand for a moment. They staggered back. Priests, elders, soldiers, and even Judas, fell as dead men to the ground.
The angel withdrew, and the light faded away. Jesus had opportunity to escape, but He remained, calm and self-possessed. As one glorified He stood in the midst of that hardened band, now prostrate and helpless at His feet. The disciples looked on, silent with wonder and awe.
But quickly the scene changed. The mob started up. The Roman soldiers, the priests and Judas, gathered about Christ. They seemed ashamed of their weakness, and fearful that He would yet escape. Again the question was asked by the Redeemer, "Whom seek ye?" They had had evidence that He who stood before them was the Son of God, but they would not be convinced. To the question, "Whom seek ye?" again they answered, "Jesus of Nazareth." The Saviour then said, "I have told you that I am He: if therefore ye seek Me, let these go their way"--pointing to the disciples. He knew how weak was their faith, and He sought to shield them from temptation and trial. For them He was ready to sacrifice Himself.
Judas the betrayer did not forget the part he was to act. When the mob entered the garden, he had led the way, closely followed by the high priest. To the pursuers of Jesus he had given a sign, saying, "Whomsoever I shall kiss, that same is He: hold Him fast." Matthew 26:48. Now he pretends to have no part with them. Coming close to Jesus, he takes His hand as a familiar friend. With the words, "Hail, Master," he kisses Him repeatedly, and appears to weep as if in sympathy with Him in His peril.
Jesus said to him, "Friend, wherefore art thou come?" His voice trembled with sorrow as He added, "Judas, betrayest thou the Son of man with a kiss?" This appeal should have aroused the conscience of the betrayer, and touched his stubborn heart; but honor, fidelity, and human tenderness had forsaken him. He stood bold and defiant, showing no disposition to relent. He had given himself up to Satan, and he had no power to resist him. Jesus did not refuse the traitor's kiss.
The mob grew bold as they saw Judas touch the person of Him who had so recently been glorified before their eyes. They now laid hold of Jesus, and proceeded to bind those precious hands that had ever been employed in doing good.
The disciples had thought that their Master would not suffer Himself to be taken. For the same power that had caused the mob to fall as dead men could keep them helpless, until Jesus and His companions should escape. They were disappointed and indignant as they saw the cords brought forward to bind the hands of Him whom they loved. Peter in his anger rashly drew his sword and tried to defend his Master, but he only cut off an ear of the high priest's servant. When Jesus saw what was done, He released His hands, though held firmly by the Roman soldiers, and saying, "Suffer ye thus far," He touched the wounded ear, and it was instantly made whole. He then said to Peter, "Put up again thy sword into his place: for all they that take the sword shall perish with the sword. Thinkest thou that I cannot now pray to My Father, and He shall presently give Me more than twelve legions of angels?"--a legion in place of each one of the disciples. Oh, why, the disciples thought, does He not save Himself and us? Answering their unspoken thought, He added, "But how then shall the scriptures be fulfilled, that thus it must be?" "The cup which My Father hath given Me, shall I not drink it?"
DA 696
"Our Saviour awed men by his purity and elevated morality, while his love and gentle benignity inspired them with enthusiasm. The poorest and humblest were not afraid to approach him; even little children were attracted to him. They loved to climb upon his lap and to kiss that pensive face, benignant with love. This loving tenderness you need. You should cultivate love.... Expressions of sympathy, and acts of courtesy and respect for others, would not detract from your dignity one particle, but would open to you many hearts that are now closed against you."
GW92 261
Kissing
SOCIETY in Babylon and the characteristics of that last night of Belshazzar and of the kingdom of Babylon, are representative of society and its practices in the last days. This would be plain, if from nothing else, from the fact that the term "Babylon" is used to describe the society and the practices of the last days. And the practices of Babylonian society that night were feasting, and drunkenness, and loose relations between the sexes.
And such is precisely the description, which Jesus gives of things in the last days. He says they will be "eating and drinking," and "eating and drinking with the drunken;" there will be "surfeiting and drunkenness;" and like as it was in the day when Lot went out of Sodom, "even thus shall it be in the day when the Son of man is revealed." Luke 18:30.
If these things were only confined to the confessedly wicked world, it would all be bad enough; but the faithful Word certifies that that these things are practiced by, and among, those who profess to be the servants and people of God. "In the last days," men will have "a form of godliness," but will deny the power, and will be "lovers of pleasures more than lovers of God." 2 Tim. 3:4, 5. It is even these who will be surfeiting and drinking. It is even the professed servant of the Lord, though an "evil servant," who says "in his heart, My Lord delayeth his coming," and begins "to smite his fellow-servants, and to eat and drink with the drunken." Matt. 24:48, 49. It is even professed churches, "mother" and daughters, that are designated in the Scriptures as "Babylon."
And today it is sorrowfully a matter of serious consideration with the most spiritually minded in the churches, how much further the churches can go in their feasting and festivity; their fish-ponds, grab-bags, and kissing-bees; their auction sales—at "foot socials" and "ankle auctions"—of the young women of the congregation, the price invited by sensual suggestion,—before they arrive at the point where, like Babylon indeed, they, too, shall be weighed in the balances, and, because utterly wanton, found utterly wanting. Such proceedings cannot possibly have any other effect than to destroy in men that properly chivalrous and manly respect for women, and for themselves with women, that is the honor of a man; and to break down in woman that womanly modesty and reserve that everywhere are the perfect defense of a woman; and so to produce a looseness of relations between the sexes such as characterized Babylon itself.
Such is the inevitable tendency in society today, both in the church and in the world,—altogether toward Babylon, as portrayed in the book of Daniel the night of her dreadful fall. Yet as, in that ancient Babylon, people were scattered whom God recognized as his, and to whom, just before her destruction, he called, "My people, go ye out of the midst of her, and deliver ye every man his soul from the fierce anger of the Lord" (Jer. 51:45); so now, in these last days, there are people scattered in this Babylon whom God recognizes as his, and to whom, just before her destruction, he calls: "Come out of her, my people, that ye be not partakers of her sins, and that ye receive not of her plagues." Rev. 18:4.
May 3, 1898 ATJ, ARSH 284
Kiss
"As did Nathan with David, Christ concealed His home thrust under the veil of a parable. He threw upon His host the burden of pronouncing sentence upon himself. This way of presenting the matter made Simon feel very uncomfortable. He himself had led into sin the woman he now despised. She had been deeply wronged by him. By the two debtors of the parable Simon and the woman are represented. Simon's sin is shown to be tenfold greater than that of the woman, as much greater as the debt of five hundred pence is greater than a debt of fifty pence.
Simon now began to see himself in a new light. He saw how Mary was regarded by One who was indeed a prophet in every sense of the word. He saw that with keen prophetic eye Christ read her heart of love and devotion. Simon was ashamed. He felt that he was in the presence of a being superior to himself.
Simon had doubted that Christ was a prophet, but in His very knowledge of this woman, Christ gave evidence of His prophetic character. His mighty works bore witness of Him. His miracles, His wonderful instruction, His long patience, His humility, all were evidences of His divinity. Simon need not have doubted.
"I entered into thine house," Christ continued, "thou gavest me no water for my feet: but [with tears of repentance, prompted by love] she hath washed my feet . . . and wiped them with the hairs of her head. Thou gavest me no kiss: but this woman [whom you despise] since the time she entered in, hath not ceased to kiss my feet." The washing of the feet and the kiss of welcome were attentions that were not invariably shown to guests. It was customary to bestow them on those to whom it was desired to show special regard. These ministrations Christ should have received from His host, but He did not. Christ recounted the opportunities Simon had had to show his love for his Lord, and his appreciation of what had been done for him. Plainly, yet with delicate politeness, Christ assured His disciples that His heart is grieved when His children neglect to express their gratitude to Him by words and deeds of love. Some may think that this scripture is no longer of force, but it is. Writing of those women who were to be honored, Paul said, "If she have lodged strangers, if she have washed the saints' feet, if she have relieved the afflicted, if she have diligently followed every good work" [1 Timothy 5:10].
Many need sympathy and appreciation. But those who would wash the saints' feet must have sanctified discernment, that they may be able to recognize a saint. The garment of God's messenger may be travel-stained and worn, but he may be an angel in disguise. Unrecognized, angels talk with men, speaking words that are to their souls as the water of life. Mary was looked upon as a great sinner, but Christ knew the circumstances that had made her thus. He saw that she had great capabilities for good. He saw the better phase of her character, and knew that through His grace she would become a partaker of the divine nature, and would purify her soul by obeying the truth.
Christ might have extinguished every spark of hope in Mary's soul, but He did not. The Heart-searcher read the motives that led to her actions, and He also saw the spirit that prompted Simon's words. "Seest thou this woman?" He said to him. "She is a sinner; I say unto thee, Her sins, which are many, are forgiven; for she loved much: but to whom little is forgiven, the same loveth little. And he said unto her, Thy sins are forgiven."
DG 239
Kiss
"It is believed that London is about to experience another water famine, which will be even more serious than the one of last summer. The flow in the Thames has been lower during May and June than it has ever been before. Even though rain should fall in abundance it will not now suffice to prevent the water famine. It is getting very evident that the present sources of supply are insufficient.
-A pest has appeared in a number of American cities on the Atlantic Coast, in the form of a species of flying beetle, which has been dubbed the "kissing bug." It seems to sting people for the most part on the lips, causing the parts to swell to an enormous size, and one case of death has been reported from the effects of its bite. So serious is the pest regarded, that the National Government has granted public funds for research concerning it."
July 20, 1899 EJW, PTUK 462
-In America there has recently been formed a society called the Anti-Kissing League, the object of which is to save children from being kissed by everybody. We are quite in sympathy with this move, and wish that a similar one might be inaugurated in England. This is one of the most prolific means of communicating contagious maladies, and parents should not permit promiscuous kissing of their children.
December 7, 1899
EJW, PTUK 782
-----------------
It is reported from Bridgeport, Connecticut, U.S.A., that the law against kissing, enacted by King Charles II., is being revived. It prescribes forty lashes, administered on the bare back, for the man, and thirty for the woman caught kissing in public.
December 7, 1899 EJW, PTUK 782
-------------------------
A chemist has recently examined the covers of a Bible used in a court of law, which had been kissed by many on taking the oath. While he found no germs of typhoid or tuberculosis, he found several varieties, some of which, he said, under favourable conditions, might produce harmful results. The kissing of the Bible is a disgusting practice from the sanitary point of view, and aenselest and profane from the religious point of view when forced upon people who have no faith to look.
March 25, 1897 EJW, PTUK 190